---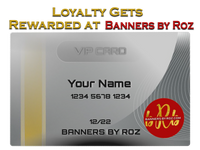 BECOME A VIP with Banners by Roz
Here's how it works
10% DISCOUNT off every order $80 or more on our website.
PRIORITY ORDER PROCESSING - As a BBR VIP member you'll be bumped to the front of the line. Your orders will be processed within 5 business days. Excludes weekends.
UPGRADED NEXT DAY AIR SHIPPING - Your orders will be shipped via next day air service once it's been processed, approved and printed.
EARN LOYALTY REWARDS - After you spend $500 anytime with us within the calendar year of your membership you'll receive a credit for a $50 that can be applied toward your next purchase. (one time credit per year)
All of this for only $149.00!!
(VIP membership is good for one year)
Note: Do not purchase this listing if you have not been invited to do so. 

BBR VIP Membership rules:
Members must register on our website if you haven't already. All orders must be placed from the member's registered account and shipped to the shipping address on file in order to be eligible for the discount.
Membership can not be shared and can only be used by the member on file.
Membership can be transferred.
Prices of products on our website are subject to change at any time however the 10% discount will still apply.
10% discount is applied automatically when you log into your account on our website, BannersbyRoz.com
Membership will begin within 24 hours from the date of purchase and expire after 1 calendar year.
All sales are final. Membership can not be canceled once purchased.